KCP Visiting Judges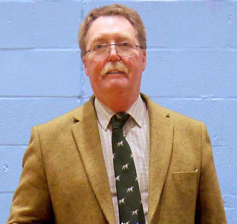 David Bell, The UK
FCI Judge
Started in Irish Setters in 1974 and made up first Champion under kennel name Balintyne in 1982. Have since bred or shown in partnership with my Wife Gillian three Champions and a further six CC or RCC winners. Have had an association with Labradors since the early 80s handling and helping with the famous Bradking Kennel. I have always held an interest in Labradors through my friendship with Peggy & Arthur Kelley, traveling to shows with Arthur for many years where the main topic of discussion was "the Labrador" it's confirmation, breed type etc. I was fortunate to have been connected with Labradors and experienced at close quarters some of the wonderful Bradkings such as Bradking Bonnie My Girl, Bradking Black Charm, Bradking Cassidy, Bradking Cassandra and of course Sh CH Bradking Hugo the current breed record holder. I owned a Labrador from the Cambremer Kennel in the 1990s. I have owned and shown Pointers since 2012.
I Started Judging in 1978 giving CCs in Irish Setters in 1988 and have judged them on fourteen occasions and had the honour of Judging Crufts in 2006. I first Judged Labradors in 1984 being included on the Labrador Breed Council's A1 list. Have judged the Cotswold and Wyvern Labrador Club and West of England Labrador Club Open Shows and have now award Challenge Certificates on four occasions in Labradors. I have judged the Gundog Group on 3 occasions and now approved to award CCs in 16 breeds in the Gundog Group. I also have an interest in the other sporting breeds, Hounds and Terriers, owning and exhibiting Jack Russell Terriers and approved to judge Irish Terriers. I have judged Hounds many times at Open shows, particularly Afghans Hounds, Petit Basset Griffon Vendeen, Grand Basset Griffon Vendeen, Beagles and Whippets.
I was the founder of the Midland Irish Setter Society and a Past Chairman of The Irish Setter Association. I have served on the committee of The City of Birmingham Championship Dog Show for over 20 years as Show Manager and for the last 8 years as Secretary. I have been a Member of the Kennel Club since 1996 and sit on the Breed Standards and Stud Book Committee.