KCP Visiting Judges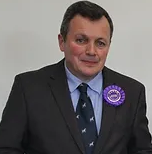 David Shields, The UK
FCI Judge
I first started showing Cocker Spaniels in 1971. We won our first CC in 1975 and made up our firs home bred Show Champion, Wilholme Waltztime, in 1979. Over the years we have bred, owned and showed numerous Show Champions and CC winners and have also exported dogs who have been made up in Norway and the Netherlands.
Along with my partner, Iren Glen, we purchased a German Shorthaired Pointer from the Hillanhi Kennel of Jean Bates. Hillanhi Thalia was Top Puppy in Breed in 2001 and won a total of 11 CCs. She produced Sh Ch Wilholme Chasing The Dream who won the bitch CC at Crufts in 2010 and 2011 and was also BOB in 2011. We are still showing her Great Grand Daughter, Sh Ch Ir Sh Ch Wilholme Sharp 'n' Smart at Bessalone, JW, who won the CC at Crufts in 2022.
I am also involved with showing the Italian Spinone for my partner Irene and her friends, Sue and Sally Knowles.
I first started judging in 1978 and awarded my first set of CCs in Cocker Spaniels in 1987. I have awarded CCs in the breed on 18 occasions including Crufts in 2008 and also have judged the breed at the World Dog Show in Milan in 2015. I now award CCs in 23 breeds in the Gundog Group as well as judging the Group at Championship Show level. I have also judged English Springer Spaniels at Crufts in 2014. As well as my judging in the UK I have also judged in most countries in Europe as well as in South Africa, Australia and New Zealand.
I have also had an active interest in the terrier breeds, showing Border Terriers and judging the breed for the first time at Open Show level in 1987 and with CCs in 1997. It is a breed I have also judged overseas on many occasions including the Stockholm International, Helsinki International and the Royal Queensland in Australia. I will also be judging the Border Terriers at Crufts in 2023. I am now passed to judge 15 breeds in the Terrier Group at CC level as well as the Group at Championship Show level.
In 2023 I will judge my first breed in the Working Group at CC level, Portuguese Water Dogs and will then be eligible to apply to our Kennel Club to judge BIS at Championship Show level. I have judged the majority of the breeds in the Toy, Utility, Working, Pastoral & Hound Groups at Open Show level in the UK since the late 1970s including the Group competition.